Kitchen Cabinet Color Trends 2023
Kitchen Cabinet Color Trends 2023
Your kitchen cabinets are staple components of your home, storing dishes, glassware, and more. You likely utilize these cabinets multiple times daily, as the kitchen is among the most-used rooms in typical homes. Because you spend a fair bit of time every day looking at your kitchen cabinets, it is natural to want them to look their best.
An easy, affordable way to give your cabinets a refresh is with a new color. Cabinet refinishing or refacing can help you achieve this goal without having to replace your entire cabinet installation. With so many finish colors on the market, how do you decide which is best for your home? Start off by getting to know the kitchen cabinet color trends for 2023.
Want to makeover your kitchen or bathroom cabinets?
Contact us online or call (480) 641-9611. One of our cabinet experts will come to your home for a same-day, no-obligation quote to refinish or reface cabinets.
White
White kitchen cabinets have long been popular, and this trend is seeing yet another resurgence this year. The crisp, minimalist look goes well with white cabinets, so this is likely the way to go if you are looking to simplify your decor. White can also complement transitional or classic styles, making it one of the most versatile choices out there. Finally, it serves as a blank canvas, giving you virtually free rein with the rest of your color scheme, accent pieces, and overall styling.
One thing to be aware of when working with white is that there are varying shades of white. It is important to pay attention to the undertones to determine color pairings. Cool undertones complement the cool end of the color spectrum, including green, blue and purple, while warm undertones pair better with warm colors, like red, orange, and yellow. If you have a particular color palette in mind, don't skip this important consideration when choosing your specific white.
Mushroom
If stark white isn't your thing, mushroom is another neutral cabinet finish option that has exploded in popularity among kitchen cabinet color trends in 2023. Mushroom isn't a specific color, but rather a color family. Hues in this group can range from gray to green to beige to pink, with blends of these colors as well. With so many varying shades, it is easy to find the perfect one to suit the rest of your decor.
Because mushroom is a basic, muted tone, you'll want to punch up other areas of your decor to create visual interest. Keep the other colors on the soft side but deep and rich in hue. This will complement the mushroom color without overpowering it. The hue is a great choice for traditional or rustic decorative styles, keeping the overall look warm, soft and inviting. It is a great choice for minimalist design as well.
Blue
Blue is a calm, soothing color, so it is a great choice for a busy, hectic environment like your kitchen. It can bring a feeling of relaxation while you cook, making the experience even more enjoyable. You'll have a lot of options in choosing a shade of blue for your kitchen cabinets, as it is quite a diverse color family. From dusty sky blue to vibrant cobalt to deep navy, there is a blue to suit your mood.
Blue kitchen cabinets will make a dramatic impact, no matter which shade you choose, so the rest of your kitchen decor doesn't need to be overly bold. Yellow accents can provide an additional pop of color, or you can try doubling up on blue, choosing accent pieces in a shade that is lighter or darker than your cabinets. Stainless steel appliances look great with blue cabinets, though a white finish on your appliances could work as well, especially with more vibrant hues.
Green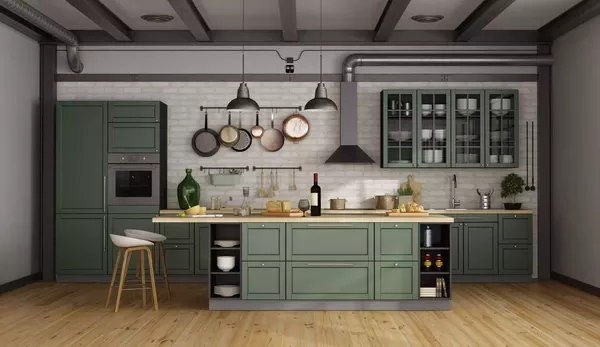 If you're all about nature, bring the vibes of the outdoors inside with green kitchen cabinets. Although it's not quite the same as actually being outdoors, this natural color can still evoke that feeling of relaxation you can get when outside. As with other colors, you'll have a vast range of hue selections within this color family, like delicate sea foam green, deep forest green and rich emerald green. Choose a single green, or create a unique monochromatic look with multiple green hues.
To style green kitchen cabinets, consider the specific hue you have chosen. Soft, muted colors can fade into the background and be used as a base, while bolder shades will command more attention, often becoming the focal point of the room. As for accent colors, look to your garden for inspiration. Just as plants come in a variety of greens, their flowers come in a range of hues as well, so use them to guide your choices.
Natural Wood
Natural wood provides a classic kitchen look that will never go out of style, so it is no surprise to see it among the kitchen cabinet color trends in 2023. The visible wood grain looks great and gives your cabinets a one-of-a-kind appearance. The style can pair with virtually any decorative style, so it is a versatile option that can evolve along with the rest of your decor, should you decide to change things up again in the future.
Wood comes in a variety of colors, from pale, sandy beige to deep brown to even red. Darker woods will create cabinets that deliver a more dramatic impact, while lighter shades of wood can keep the overall look light and airy. Consider the other colors in your kitchen when choosing the wood for your cabinets. Bright, bold colors will stand out against dark wood, while white and other neutrals complement lighter-colored wood, though there are certainly exceptions to any rule.
Schedule a Cabinet Refacing or Refinishing Consultation
If you are interested in switching up the look of your kitchen with cabinet refinishing or refacing, we welcome you to get in touch with us for a free, no-obligation consultation. We can come to your home in person or meet virtually and will provide you with a detailed, transparent price estimate on the same day. Reach out today to learn more about our family-owned cabinet company's high-quality craftsmanship and outstanding customer service.