Cabinet Remodeling in Mesa, AZ & the Phoenix Area
Cabinet Remodeling: A New Look Designed for Your Space.
Cabinet Coatings has been one of the Valley's leaders in cabinetry remodels for nearly 30 years. We bring kitchen and bath redesigns to life without the exorbitant cost of cabinet replacements. Whether you're looking to reshape your existing cabinets to make room for larger appliances, or you'd like to add some convenience features such as soft-close tracks or pullout shelves, we can help.
Veteran craftsmen: Thousands of successful jobs since 1996
5‑year warranty: No cracking, fading, or peeling
Perfect service record: Zero complaints from the Registrar of Contractors
On this page
Service Details
What Is Cabinet Remodeling?
Sometimes a cabinet refresh requires more than a new finish. Structural changes may also need to be made, especially if new appliances are being installed or more cabinet space is desired. Cabinet remodeling may mean new doors and drawer fronts, along with stylish crown molding to complete the new look. Some remodels include new, durable drawer boxes with soft close tracks or new cabinets to increase the size and function of your island. It might even mean replacing your lower cabinet doors with large drawers for easy access and organization. From there, our proprietary coating process is applied to all resized and original cabinet boxes and doors.
Our Process
Our Cabinet Remodeling Process in Three Steps
Step 1: Free in-home consultation

During our initial consultation, we talk to the homeowner about any cabinet modifications that may need to be done to accommodate new appliances or conform to a new design layout. Other options include adding crown molding and other trim details, adding pullout shelves or soft close tracks, and adding new drawer boxes with full extensions.

After we have a better idea of your project, we'll give you a fair, fixed-price quote for our services.

Step 2: Cabinet remodeling process

Our cabinet remodeling process takes about 5 days in your home on average:

Prior to installation: By the time we begin work in your home, 90% of the job is already complete. All new doors and cabinets are crafted. Hardware is selected. And your installation team is assembled. This meticulous preparation process is how we're able to achieve complete cabinet makeovers in less than a week in your home.

Workshop refinishing: Once the woodwork is complete, we apply our ultra-durable finish to your cabinet boxes at your home. At the same time, the finish is also applied to your doors and drawer fronts at our shop.

Installation day: On the final day the doors and drawers are installed to complete your new, custom kitchen.

Step 3: Final walkthrough

After we install the resized boxes and new cabinet doors, we'll show you your newly modified and refinished cabinets, and share tips on how to care for their refinished cabinets and doors.
Other Service Options
Not sure if cabinet remodeling is right for you?
Cabinet remodeling is an excellent choice for Phoenix homeowners who want to make space for larger appliances or reconfigure their cabinetry to complement a major major kitchen remodel. It's also useful if you're making structural changes to your cabinets, such as installing new doors or adding crown molding and other trim details. Other convenient options include pullout shelves and soft-close tracks.
A cabinet remodel is best for homeowners who want a more dramatic change to their cabinetry while still paying less than what brand-new cabinetry would cost. Some cabinetry options that can reduce costs even further include:
Cabinet refinishing. We do light repairs on your current cabinet doors and give them a new finish to make them look like new (cabinet doors are not replaced). See more details here.
Cabinet refacing. We can replace your current cabinet doors with new, custom-made doors. You choose the style and shape and we'll apply the finish of your choice. See more details here.
Do you have questions about which cabinet service is best for you? We're here to help! Just contact us with questions or check out our blog "Refinishing vs Refacing vs Remodeling: Which is Right for Me?".
Why Choose Us
Why choose Cabinet Coatings?
We're not just another cabinet refinishing company, we're a team of experts who believe that success comes from consistently exceeding customer expectations.
What sets us apart from the rest?
We do what's right for our customers. It's easy for us to blow competitors away, we just treat you like we would a friend—with kindness and respect.
We don't take shortcuts, ever. We keep an eye out for opportunities to do the small things other companies don't.
We've been around longer than any local competitor. We've been perfecting the art of cabinet refinishing since 1996—and we have stunning results to prove it.
Customer Review
We love the finished look of our cabinets...
"We have used Cabinet Coatings of America, Inc. on the remodeling projects of 4 of our homes. We love the finished look of the cabinets in our kitchens and baths! The team is so easy to work with, and have been highly trustworthy in what they say and what they do. We recommend Cabinet Coatings of America with the greatest of confidence."

—Bill & Cindy R. | Phoenix Homeowners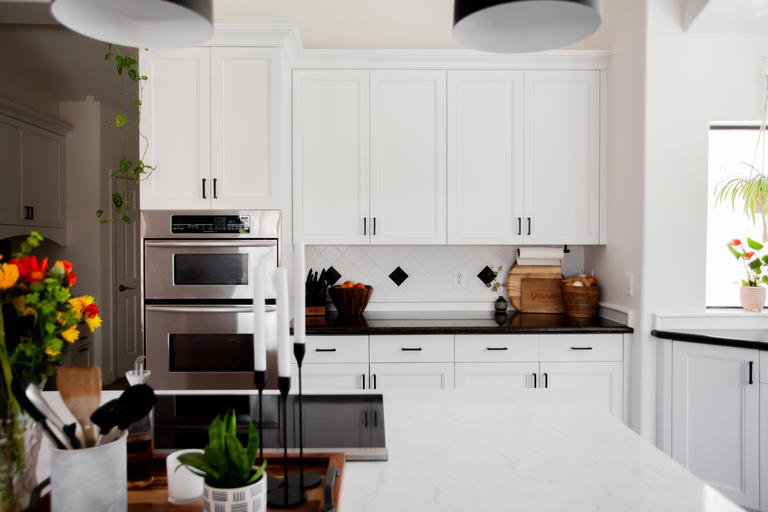 Service Area
Cabinet Coatings serves all of Phoenix and Central Arizona
Cabinet Coatings is headquartered in Phoenix, Arizona. But we've completed cabinet projects as far north as Flagstaff and as far south as Tucson. If you have questions about our service area, please call or contact us.
Catalina Foothills
Fountain Hills
And more…
See our service area
Request a Free Estimate with Cabinet Coatings Today