Laundry Room Cabinet Refacing in Phoenix, AZ
A Laundry Room Makeover Has Never Been Easier
Do you have big remodeling plans for your laundry room, but don't want to pay full price for brand-new cabinets? Call Cabinet Coatings today, and we'll introduce you to our popular cabinet refacing service during a free in-home consultation. With dozens of unique coating colors to choose from and an exceptional team to assist in the process, you'll be grateful you chose Cabinet Coatings of America.
Veteran craftsmen: Thousands of successful jobs since 1996
5‑year warranty: No cracking, fading, or peeling
Perfect service record: Zero complaints from the Registrar of Contractors
On this page
Service Details
What Is Cabinet Refacing?
The Cabinet Coatings team will revamp your laundry room by replacing your old cabinet doors with brand-new ones. With multiple coats of our long-lasting finish in a color of your choice, both your doors and cabinet boxes will be transformed. Not only is this process more affordable than a complete cabinet replacement, but it also takes only a fraction of the time. If you have questions about refacing, Cabinet Coatings offers a free in-home estimate to guide you through the process.
Our Process
Our laundry room cabinet refacing process
Step 1: Free in-home consultation

You have a vision for your laundry room that's different from anyone else's. That's why we start with an in-depth consultation where we uncover what you like and don't like about your current setup. Then we help you design your new laundry by hand-picking your new cabinet door style and finish (we'll bring samples to help you decide).

Once you chose your new cabinets, we give you a fair, written quote—right then and there.

Step 2: Cabinet refacing process

Once you sign off on your project, we partner with a local cabinet maker to custom-design your new doors. Once the doors are ready, we typically finish projects in less than a week:

Day 1: First, we get rid of the old cabinet doors. Then we wash, sand, and prime the cabinet boxes. Meanwhile, another team at our workshop adds 2-3 applications of our ultra-durable high-quality finish to your new cabinet doors. Time in your home: 1-2 hours.
Day 2: We cover your floors/counters/appliances then apply the same finish to your laundry room cabinet boxes. Time in your home: 1 full day.
Day 3: We install your cabinet doors and add any final touches or upgrades such as new soft-close drawer tracks and hinges, hardware knobs/handles, etc. Time in your home: 1-2 hours.

Step 3: Final walkthrough

On the final day, we'll perform a walkthrough of your laundry room. You'll have the opportunity to tell us if you see anything that isn't up to your standards—and we'll address it then and there. Finally, we'll share some tips on how to care for your newly-redesigned cabinetry.
Other Service Options
Not sure if refacing is right for your laundry room cabinetry?
No matter your laundry room cabinet dreams, we've got you covered. We have a total of 3 different cabinet makeover options to fit any project needs and budget.
We offer Phoenix homeowners plenty of cabinet upgrade options, including:
Cabinet refinishing. For this option, we'll work with your existing cabinet doors and apply multiple coats of our durable finish to them. This option gives you that good-as-new look without the expense of buying new doors or cabinets. See more details here.
Cabinet remodeling. If you want a more dramatic transformation or desire more space, we can remove or add to the structure of your laundry room cabinets. If needed, we can replace the cabinet doors, too. We'll also provide our signature, high-quality finish to all doors and cabinet boxes. See more details here.
We offer bathroom cabinet refacing and kitchen cabinet refacing too!
Do you have more questions about which cabinet service is best for you? We're here to help! Just contact us with questions or check out our blog
Cabinet Refinishing vs. Refacing vs.

Remodeling
Why Choose Us
Why choose Cabinet Coatings?
Cabinet Coatings is a team of skilled craftsmen who believe that success comes from consistently exceeding customer expectations.
What sets us apart from the rest?
We do what's right for our customers. It's easy for us to blow competitors away, we just treat you like we would a friend—with kindness and respect.
We don't take shortcuts, ever. We keep an eye out for opportunities to do the small things other companies don't.
We've been around longer than any local competitor. We've been perfecting the art of cabinet refacing since 1996—and we have stunning results to prove it.
Customer Review
They were amazing and did everything I asked.
"My cabinets were faded and the previous owner left with issues that needed fixing. It's a time to social distance and the staff was diligent about masks, etc. I had a kitchen, 3 baths, a laundry room, and a Murphy bed done. They were amazing and did everything I asked. Work was done in a week. My friend referred me as she's had her kitchen done 2X by them, 12 years apart."

—Bonnie C. | Phoenix Homeowner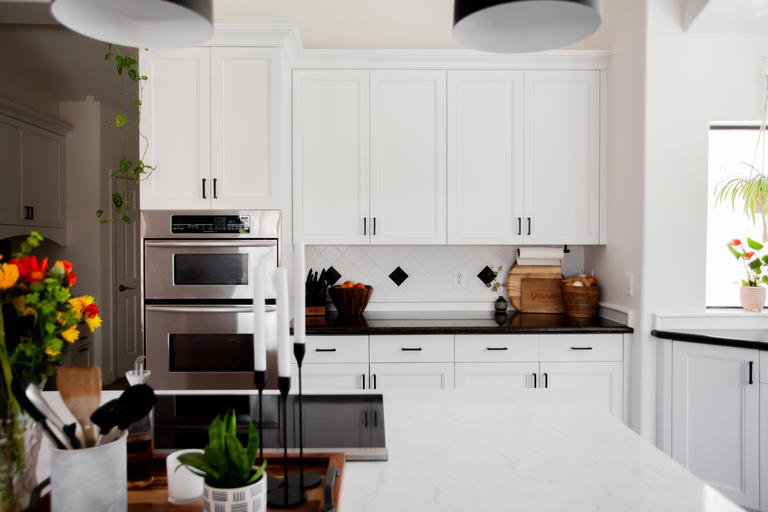 Service Area
Cabinet Coatings serves all of Phoenix and Central Arizona
Cabinet Coatings is headquartered in Phoenix, Arizona. But we've completed cabinet projects as far north as Flagstaff and as far south as Tucson. If you have questions about our service area, please call or contact us.
Catalina Foothills
Fountain Hills
And more…
See our service area
Request a Free Estimate with Cabinet Coatings Today