Kitchen Cabinet Refacing in Phoenix, AZ
Enjoy the Kitchen Cabinets of Your Dreams for a Price You'll Love
Experience a transformation of your kitchen cabinetry for a fraction of the cost of purchasing new cabinets. Cabinet Coatings veteran craftsmen have nearly three decades of experience working on residential kitchen cabinetry, and can bring your vision to life with a combination of new custom-made cabinet doors and our proprietary finishing process. We have dozens of colors to choose from and we guarantee our work and our coating material for 5 whole years!
Veteran craftsmen: Thousands of successful jobs since 1996
5‑year warranty: No cracking, fading, or peeling
Perfect service record: Zero complaints from the Registrar of Contractors
On this page
Service Details
What Is Cabinet Refacing?
Are you ready to transform your space without breaking the bank? Cabinet Coatings has you covered. Our expert craftsmen will remove your existing cabinet doors and replace them with custom-made ones. We'll then apply multiple coats of our durable finish to both your doors and cabinet boxes in a color of your choice. The end result is nothing short of a transformational new look. Plus, the cost is far more affordable than a complete cabinet replacement, and the process is significantly faster. Get started with a free in-home estimate and let Cabinet Coatings guide you through the refacing process.
Our Process
Our kitchen cabinet refacing process
Step 1: Free in-home consultation

We start by walking through your kitchen and speaking with you to get an idea of your likes and dislikes. Everybody's idea of a "beautiful kitchen" is different. So we take our time to understand your vision and provide door samples and finish colors to help you with the decision-making process. Unlike other companies that use veneers, we completely replace your old cabinet doors with new, custom-designed ones.

Once you chose your new cabinets, we give you a fair, written quote—right then and there.

Step 2: Cabinet refacing process

Once you sign off on your project, the first step is crafting your new kitchen cabinet doors. Once the doors are ready, we typically finish projects in less than a week:

Day 1: We remove and dispose of your old cabinet doors. Then, we wash, sand, and prime the cabinet boxes. Meanwhile, another team at our workshop adds 2-3 applications of our ultra-durable coating product to your new cabinet doors. Time in your home: 2.5-3 hours.
Day 2: We cover your floors/counters/appliances then apply the same reliable coating product to your kitchen cabinet boxes. Time in your home: 1 full day.
Day 3: We install your cabinet doors and add any final touches or upgrades such as new high-quality soft-close drawer tracks and hinges, hardware knobs/handles, etc. Time in your home: 2-4 hours.

Step 3: Final walkthrough

Once the area is cleaned and the cabinets are fully-dried, we'll walk you through the kitchen slowly, allowing you to check for any areas needing improvement. We'll address anything you find on the spot! Then, we'll teach you how to care for your brand-new kitchen cabinets.
Other Service Options
Not sure if refacing is right for your kitchen cabinetry?
Refacing is a great choice for homeowners who want to transform their kitchen without the expense of buying entirely new cabinetry. But it's not the only option out there. Cabinet Coatings offers two additional services that offer unique benefits as well.
If you're not sure that cabinet refacing is right for you, don't worry! We also offer cabinet refinishing and remodeling for kitchen cabinetry of all shapes and sizes.
Cabinet refinishing. We do light repairs on your current cabinet doors and give them a new finish to make them look like new, without replacing them. Your cabinet boxes receive the same great finish. See more details here.
Cabinet remodeling. Want to tweak the shape and layout of your cabinet structure? We can remove or add to your cabinet structure and, if needed, replace the cabinet doors and apply the finish of your choice. See more details here.
Do you have more questions about which cabinet service is best for you? We're here to help! Just contact us with questions or check out our blog, "Refinishing vs Refacing vs Remodeling: Which is Right for Me?".
We offer bathroom cabinet refacing and laundry room cabinet refacing too!
Why Choose Us
Why choose Cabinet Coatings?
Cabinet Coatings is a team of skilled craftsmen who believe that success comes from consistently exceeding customer expectations.
What sets us apart from the rest?
We do what's right for our customers. It's easy for us to blow competitors away, we just treat you like we would a friend—with kindness and respect.
We don't take shortcuts, ever. We keep an eye out for opportunities to do the small things other companies don't.
We've been around longer than any local competitor. We've been perfecting the art of cabinet refacing since 1996—and we have stunning results to prove it.
Testimonial
They left us with an amazing kitchen!
"My wife and I bought our house 9 years ago and from day 1 she wanted our kitchen cabinets painted white. It took 9 years but I agreed, but only if it was done professionally. I am so glad I called Cabinet Coatings of America. Chuck came out (Maricopa) and was on time. By the time he left, I was confident we chose the right company. Every appointment made was on time within minutes. The team that worked on our project was more than we could have hoped for. They were professional, pleasant, and hard-working. When done with the job, they cleaned everything up and made sure we were happy with the final results. They left us with an amazing kitchen!"

—Donald T. | Phoenix Homeowner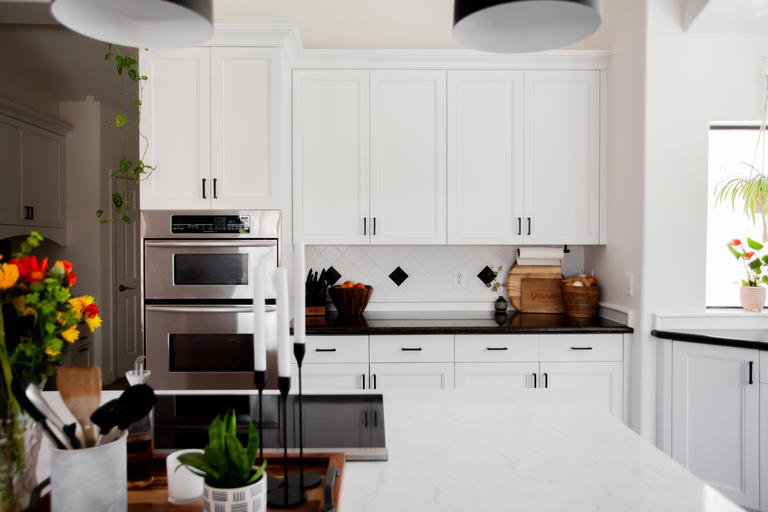 Service Area
Cabinet Coatings serves all of Phoenix and Central Arizona
Cabinet Coatings is headquartered in Phoenix, Arizona. But we've completed cabinet projects as far north as Flagstaff and as far south as Tucson. If you have questions about our service area, please call or contact us.
Catalina Foothills
Fountain Hills
And more…
See our service area
Request a Free Estimate with Cabinet Coatings Today