How To Best Maintain Your Refaced Cabinets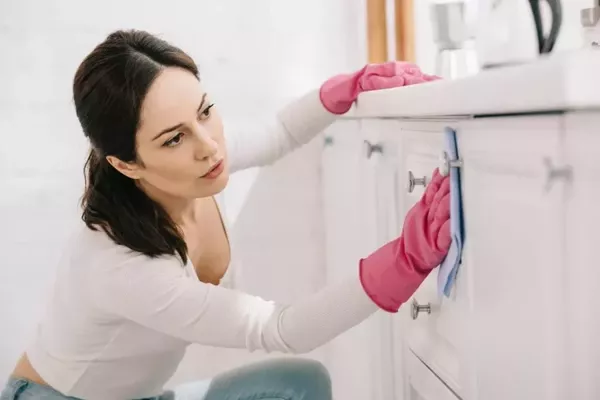 If your cabinets are worn out, you're not alone. Plenty of problems can plague your cabinets, from cracks and chips to peeling paint and wood, plenty of problems can plague your cabinets. Many homeowners turn to refacing to avoid the hassle of replacing their old cabinets entirely.
Cabinet refacing involves replacing the framework (such as doors and drawers) but keeping the cabinet boxes intact. This process lets homeowners enjoy refreshed, stylish cabinets without worrying about the cost and mess of replacements. Once cabinets are refaced, it's important to preserve the new quality by treating them carefully. In this blog, we'll review the following tips on how to maintain your refaced cabinets best:
Do your old cabinets need some refreshing?
Contact us online or call (480) 641-9611. We'll pair you with a cabinet expert who can provide a free virtual or in-home consultation and a same-day, no-obligation quote.
Avoid Harsh Chemical Cleaners
When your cabinet gets stained or dirty, your first instinct is to reach for a cleaner. However, before you do so, it's important to ensure your cleaner isn't inadvertently damaging your cabinets. Harsh chemical cleaners can scratch the wood and ultimately damage the finish. Here are a few cleaners you should stay away from:
Strong solvent cleaners
Paint thinners
Mineral spirits
Products with ammonia
In addition to avoiding damaging materials, use a gentle material to apply the cleaner (such as a cloth or sponge). Things like brushes or scouring pads can leave scratches on your cabinet surfaces.
Safe Cleaning Solutions to Use
The safest cleaning solutions are ones that rely on natural substances as opposed to chemicals. While you can find natural products on the market, creating them yourself is fairly easy. Here are some everyday household items for making your own cleaning solutions:
Dish soap: Not only is dish soap helpful in cleaning plates and silverware, but it's also effective on cabinets. Just fill a bucket with warm water and add a few drops of soap. Then, dip a soft sponge or cloth into the water and wipe your cabinets. This is great for when your cabinets just need some minor refreshing.
Vinegar: Thanks to its acidity, vinegar can help remove sticky build-up that sometimes accumulates on cabinets. Because vinegar is strong, you don't want to dump it on your cabinets — instead, put it in a spray bottle, mix it with equal parts water, then spray the mixture onto the cabinetry. After about a minute, wipe the vinegar off with a soft cloth. Adding a little dish soap can make this cleaning solution even stronger.
Baking soda: For more serious cleaning needs (such as resistant stains), baking soda can help. Take a small amount of baking soda and add water until it forms a paste. Then, dab this paste onto any stains on your cabinets. After a minute, use a damp cloth to remove the paste. If you want an even stronger solution, substitute the water for vegetable oil.
Whenever you wipe your cabinets, be sure to work gently — vigorous scrubbing can damage the wood.
Don't Hang Wet Towels On Your Cabinets
If you cook or clean in your kitchen, you know firsthand that you usually end up with some wet towels. It can be tempting to drape these towels over the side of the nearest cabinet to dry. Unfortunately, moisture can inflict long-lasting damage. When the cabinets are exposed to excessive water, the surfaces may become stained, discolored, or warped.
Be Mindful of Heat and Humidity
Two of the worst things for your cabinets are heat and humidity. Heat can make wood dry out, leading to splintering, cracking, or even shrinking cabinets. Excessive water vapor makes wood expand and retract, possibly changing the entire shape of cabinets. Unfortunately, heat and humidity inevitably appear in every kitchen through steam. Here are some appliances you may own that produce steam:
Countertop appliances (i.e., toaster ovens, electric kettles, and coffee makers)
Stove tops
Microwaves
Refrigerators
Dishwashers
While you can't avoid every appliance that makes steam, you can be mindful of how much heat and humidity are in your kitchen. Try using countertop appliances as far away from your cabinets as possible, and avoid using too many appliances simultaneously. Keeping your kitchen windows open while cooking is also a good idea.
Take Care As You Close and Open
Our final tip on this list is simple yet effective: be careful when opening and closing cabinets. Slamming cabinets shut forcefully can cause scratches or splintering, while harshly pulling them open can hurt the hinges. Thus, try to be as gentle as possible with the cabinetry.
Proper maintenance is essential to having cabinets that look good and last long. In addition to following general cabinetry care tips, you should always rely on a trustworthy resource for refacing them, such as Cabinet Coatings. Our family-owned cabinet design company has helped homeowners update their old-fashioned kitchen cabinets for over two decades. No matter the project, you can always trust us to finish the job right the first time.
Need to Update Your Cabinets? Contact Cabinet Coatings Today! 
If you need cabinet refacing, refinishing, or remodeling, Cabinet Coatings got you covered.
Since 1996, we've assisted customers by providing quality craftsmanship, expert advice, and no-obligation quotes. Contact us online or call (480) 641-9611 for a free consultation today!