What Is the Best Material for Laundry Room Cabinets?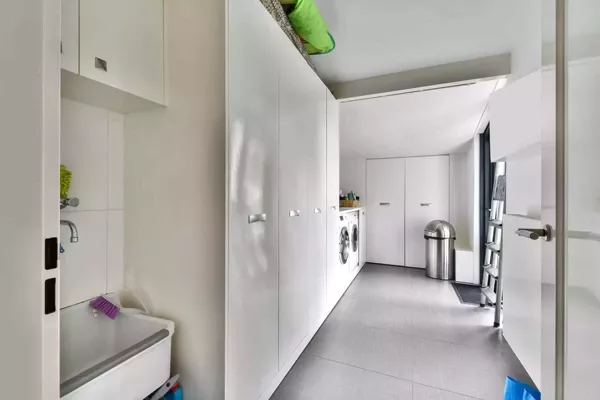 If you're looking for ways to improve your laundry room, cabinets may be the answer. From storing laundry detergent and dryer sheets to hampers and bins, there are many benefits to laundry room cabinets. Whether you're interested in upgrading current cabinets or installing new ones, it's essential to ask: what is the best material for laundry room cabinets? In this blog, we'll go over everything you need to know about this topic, including the following:
By the end, you'll know the best and worst materials for laundry room cabinetry. Let's get into it!
Are you looking for high-quality, long-lasting laundry room cabinets?
Contact us online or call (480) 641-9611. Not only will our team provide a same-day, no-obligation quote, but they'll also perform an expert cabinet installation that suits your needs.
Why You Shouldn't Buy Stock Laundry Room Cabinetry
If you're searching for a budget-friendly option for your laundry room decor, you might be tempted to go with mass-produced, stock cabinetry. Stock cabinets are typically two to three times cheaper than custom cabinets. However, they also come with some significant downsides.
Poor Quality Materials
A major downside of stock cabinetry is the low material quality. Most pre-made cabinets feature engineered wood (such as particle board or MDF), which is less reliable than solid wood. Furthermore, generic cabinets offer limited style options — you may be unable to find a cabinet that matches your exact design and organizational requirements.
Doesn't Last Long
Because they're made of poor-quality materials, stock laundry room cabinetry doesn't last very long. You might notice issues like chipped paint, cracked doors, and loose knobs as time progresses. Overall, you can expect these cabinets to last anywhere from 15 to 20 years; custom cabinetry, meanwhile, can be enjoyed for over 50 years.
Plywood: A Cost-Effective and Durable Material
Do you want higher quality cabinets than stock varieties but still cost-effective? Plywood may be what you're looking for. This material consists of thin layers (or plies) of wood veneer glued together. While plywood isn't as durable as hardwood, it still offers plenty of benefits that make it a popular choice.
Handles Humidity Well
Plywood is weather and water-resistant, so you don't have to worry about the moisture from your laundry machines damaging the cabinet surfaces.
Can Be Painted or Stained
A common issue with lower-quality materials, like particle board, is that they support paint or staining for long periods. Plywood, however, may be painted or stained with whatever color you want. This allows homeowners to customize their laundry room cabinetry to their liking.
Long-Lasting
Plywood is derived from natural plantation wood, which gives it a much longer lifespan than low-quality materials. Generally, plywood cabinets can last up to 35 years, provided they're finished properly and come from a reliable source.
Less Expensive Than Hardwoods
A major benefit of plywood is its affordability. While hardwood cabinets can be as much as two to three times more expensive than low-quality materials, plywood is typically just 10% to 20% more. Ultimately, it offers better longevity, quality, and customization than stock cabinetry, without a huge cost increase.
Hardwood: The Longest-Lasting Option 
Plywood cabinets are a good choice if you're interested in a budget-friendly cabinet option. However, hardwood is the way to go if you're looking for the highest-quality cabinets. Hardwood, which comes from dicot trees, is known for its sleek appearance, durability, and long life span. There are several types of hardwood, each of which offers their own unique benefits:
Oak: Oak cabinets have a grainy, more traditional look.
Cherry: As the name suggests, cherry hardwood has warm, red undertones.
Pine: Pine cabinets feature a smooth, gentle and soft texture.
Walnut: Available in light and dark hues, walnut cabinets give any room a rustic feel.
Maple: Maple cabinets are known for their smooth surfaces, which makes them great for customization.
No matter which hardwood you choose, you can expect the following benefits.
Beautiful
Anyone can immediately tell the difference between hardwood and lower-quality wood by its smooth, stylish appearance. While hardwood looks great on its own, you can enhance the appearance further through customization. The material offers an excellent surface for painting and staining, giving you creative control over colors and designs.
Resistant to Moisture
Don't let the sleek, elegant appearance fool you — hardwood cabinets are quite strong. Like plywood, they're resistant to the moisture and humidity associated with laundry rooms. Certain types of wood (such as oak, cherry, and maple) may be more resistant than others.
Last for Decades
Hardwood cabinets may be a bit of an investment, but you're receiving a long-lasting product in exchange. A typical hardwood custom cabinet can last for over 50 years. You should work with a reputable team like Cabinet Coating for the best results.
We have years of experience in crafting unique, long-lasting hardwood cabinets. During a free consultation, we'll discuss exactly what you're interested in regarding laundry room cabinetry. We'll also answer any questions and offer advice on the best materials or features for your needs. In the end, you'll receive an honest quote and have the knowledge you need to start this new project!
Need A Laundry Room Upgrade? Contact Cabinet Coating Today!
If you want to update your old laundry room cabinets, the Cabinet Coating team has you covered. Since 1996, we've impressed homeowners with expert advice, quality craftsmanship, and honest, upfront prices. Contact us online or call (480) 641-9611 for a same-day, no-obligation quote!